Shirley and Malcolm were originally from England.  I was able to capture the moment showing Woodwind II sailing by our stern as Shirley took the helm.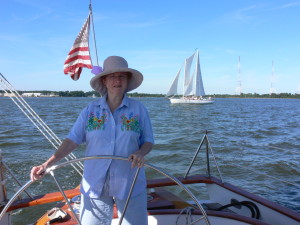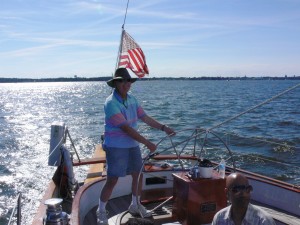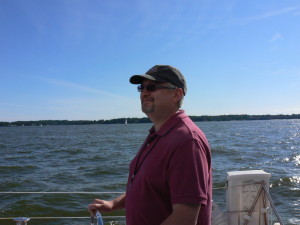 Emmanuel brought his friend Dominique for a sail.  Both friends originally knew each other in their native country, France.  Emmanuel now lives here in New Jersey with his son Alex.  Alex and I have a common interest of music.  Alex plays percussion and I am a former Horn player.
There is a lot of small boat racing in Annapolis.
This 505 came flying into the harbor as we sail out into the Bay.  The 16 foot 5 inch racing sloop, the 505,  became an international class in 1955.  This may be one of the early vessels being well maintained because of her wooden deck.  Her skipper is sailing boat fast while keeping a watchful eye on her two toddlers, hopefully assuring continued interested in small boat sailing.  If you recognize the vessel and would like to give us more information, please leave a comment.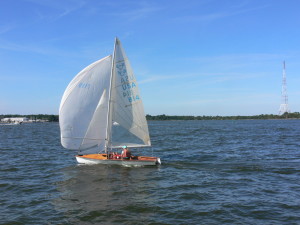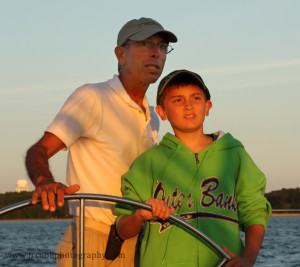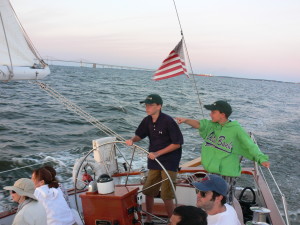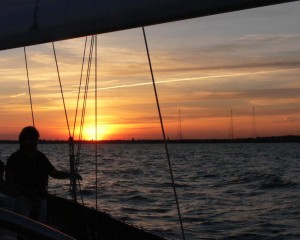 Two brothers join us for our evening sail.  First Ian takes the helm.  His older brother, Owen, then has his turn.
A vivid sunset is accented by a long contrail.
Jeanette Cook, who contributed the photo of Ian and me, is a very talented photographer.  Her site, http://www.jrcookphotography.com/ is well worth a visit.  Her recent collection of photos from her cruise on Woodwind are remarkable!