This was the theme for our August Wine in the Wind trip.Featuring wines from New Zealand, Australia and Sardinia!!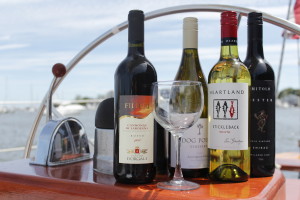 And the foods that were paired with the wines Fantastico!! Apple chicken curry salad cups w/ macadamia nuts, New Zealand Lamb and mint Meatball skewers, Australian BBQ Prawns and Sardinian Fennel, chick pea and pecorino salad cups.Wow amazing!!
Each one of the foods paired with one of the wines and our wonderful wine rep Howard took us on a journey of tastes.Thank you Howard!!!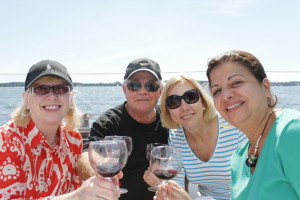 The winds were perfect. Not too strong so it made lolling about and drinking wine easy.
After the food and wine parings we put out nice cheese trio representing each country along with kiwis,figs bread and crackers as well as a traditional New Zealand sausage roll(mmmm…..)!