After being almost non-existent all day yesterday the wind decided to show up in force today. Good. We love to sail! Today was our Champagne Brunch sail and it was going to be great. Everyone was eager with anticipation. Even the crew was excited about being out in the windy conditions.
As we loaded all the delicious looking food on the boat we also made up 3 fun champagne cocktails for everyone to try. All our special event cruises usually sell out way ahead of time and we get a lot of our frequent sailors joining us. It is always fun to try something new. An we always welcome you. If you want ot join us for one of these great cruises you have to reserve early so keep and eye on our website to see when we post the new schedule.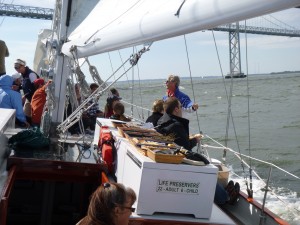 The wind was blowing 12-15 knots so we didn't use all our sails, that way we could keep the food on everyone's plates. It did make it a bit of a challenge but everyone was up for ti. It is always fun to be able to sail under the bridge.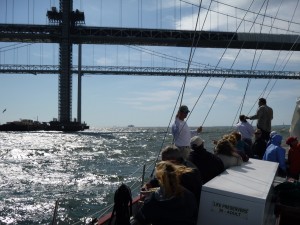 We had enough wind that we sailed under the bridge and all the way down to about even with the Sandy Point Lighthouse. We had a lucky young lady out celebrating an anniversary of her 29th birthday, I am not saying which one, and she took the helm and had a ball steering,tacking and jibing the boat in the Severn river toward the end of our cruise. Happy Birthday Leanne it was a pleasure meeting you and your friends.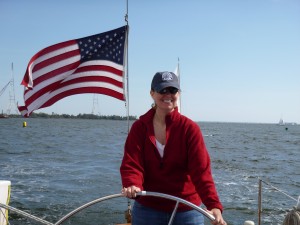 Overall the trip was a great success. Brunch, Bridge, wind champagne..I can't think of anyway it could have been better…. See you soon!