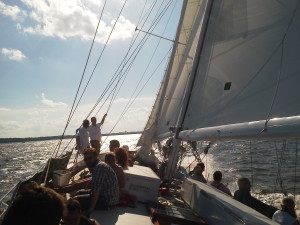 As soon as we set sail, and sailed beyond Horn Point, we knew today was going to be full of breeze and fun.  We had half filled boats for most of the day because of the heat. But with heat, it brings on the breeze on the Bay. So the people who sailed with us found the best secret to keeping cool.
Each trip we sailed on a beam reach over to Kent Island. On the 1:30 sail, we made it there in 35 minutes! I couldn't believe it, we hit 10 knots on each one of our cruises! The breeze was so nice over the boat, it seemed to have taken away the heat index.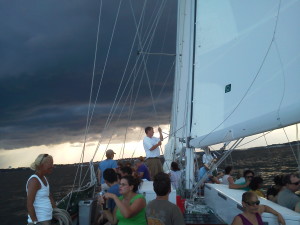 On the sunset sail, we saw that there were a line of storms trying to stay together as they crossed the mountains of Maryland, West Virginia, and Virginia. We could only wait and see, they were about an hour out.
As we set sail, the dark clouds over Annapolis looked threatening, until we realized the golden glow on the other side of the dark clouds was sun. I stayed sailing just outside the mouth of the Severn. 10 minutes later I saw the wind pick up to over 20 knots and had the crew take down the staysail. We sailed off the wind a bit towards the Bay Bridge and hit speeds over 10 knots.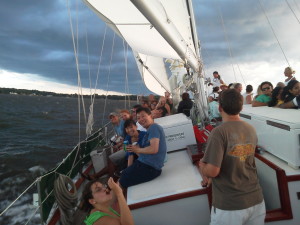 After 10 more minutes, the winds calmed a bit, so I started sailing back to Annapolis, just to stay closer in case there was more weather. The rain came for about 10 minutes, enough to wash all the sweat and sunscreen off of the guests that opted out from a poncho. They loved it. They all said that they were so hot all day, this was the best of both worlds. And then the cool air came. Oooh. Aaah.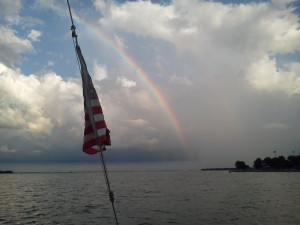 And then came the rainbow, which lasted over 15 minutes as we sailed near the USNA.
The guests all enjoyed the sail, mainly for the varied awesome conditions, skies, and breezy sailing. Great way to end the day!