We were privately chartered for a special cruise tonight on our sunset sail. My cruise details said that we were having a surprise proposal happen.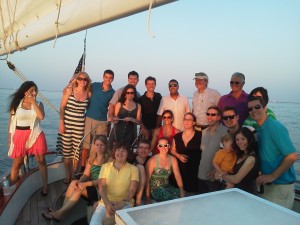 At 6:10, friends of Chris Wood and Kristen came to board the boat early for the surprise. They would be hiding below and come up when he pops the question. Chris had arranged an early dinner with their families and told Kristen that after dinner he had arranged a sailing cruise for them.
At 6:20, the guitarist he hired starts playing at the boarding area. The families check in at the dock office and get escorted to the boat. I start my safety speech as instructed. And at the end, I am supposed to say, "does anyone have any questions?" At this moment, Chris gets on his knee and grabs the ring… meanwhile all her friends come up from below. She is so into what Chris just asked her, she does not notice all the "new" guests aboard. She starts crying and says yes! Then she looks around and cries more… all happy tears.
Great sail while ghosting along in the light breezes that kept everyone cool.
The red velvet cakes that Chris ordered were decorated "At least you said yes…" and the other cake said "… or this would be awkward".
We wish them a lifetime of happiness!