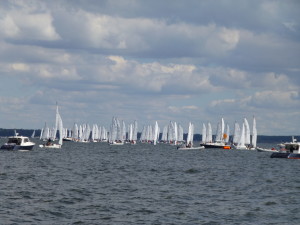 What a beautiful Saturday! When I saw how much wind was out there, I knew we could make it to see the J70 North American Championships being held in the middle of the Bay. This was my goal for the day. I wanted show guests a starting line with 90 boats on it, but had to settle for the finish line of race 5 or 6.
We had 10-12 knots and sailed swiftly out to the race course. Unexpectedly, we had the Navy 44s out sailing just south of the J70 fleet. The Navy 44s are 44-foot sailboats designed for the Naval Academy, they were hosting an intercollegiate regatta on these boats. The J70s are a 7 meter boat, roughly 21 feet, with a four person crew. This was the inaugural first year of the fleet, and what a turnout they had!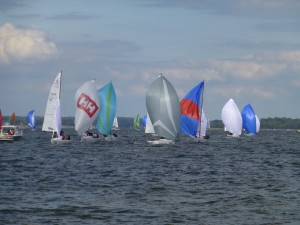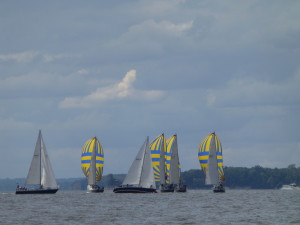 On the second sail of the day, the winds lightened so we  were unable to get to close to the racing fleets. Aboard we had Julia and Purnell, who just got married yesterday and all their family and friends. They privately chartered the whole boat for their post-wedding party.  They are sailors and are preparing to sail across the Atlantic in the Atlantic Rally in May on their 31-foot, Pacific Seacraft. They then have plans to sail around the Med for awhile. Jealous.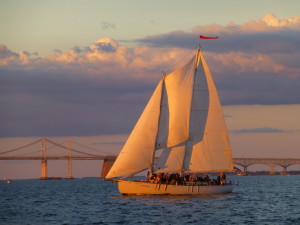 The sunset sail was perhaps the prettiest sunset sail of the year. We had a company outing, and they were treated to the most amazing sky. My pictures don't do it justice. Luckily we got some great photos as Woodwind came sailing by.