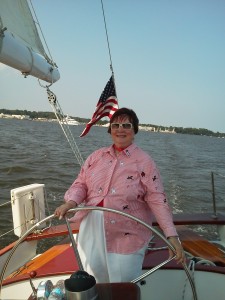 We had some great breezes today. It's funny how "great breeze" might be defined among the captains and crew on the Woodwinds. To us, the crew of the Woodwind II, for today… we had great breezes. Why? The forecast was for no breeze. While we were getting the boat ready to sail, we had no breeze. We've been having less than ideal breezes during the week. When we motored out past the harbor… 10-12 knots of breeze! Woo-hoo. A nice surprise. This was "great".
We almost had enough breeze to make it under the bridge, but fell a half-mile short on each cruise. Delightful sailing was had by all. We had some very nice guests in town for the Drum Corp Associates World Championships happening at the Naval Academy's Stadium all weekend. This is the first time this championship has been in town, so we are so happy to show off our town!
On our sunset sail, one of my favorite local musician duos were playing aboard. The Roadside Show is the name of the band. When a duo comes aboard with guitar, bongos, washboard, harmonicas, and more… it has to be good! Add in a "great" breeze that brought the music right over the boat for everyone to tap their toes and hands to the beat.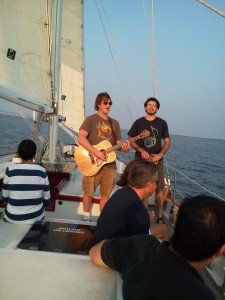 It was a crowded night… not aboard, but on the water. We had to sail through 3 fleets of USNA sailing team practice and all the people getting ready to sail on the the J-fleet Thursday night racing.
Great music, great people, great sunset and "great" breezes. Oh, and an almost full moon!