Saturday's breeze built beautifully from the SSE over the course of the day.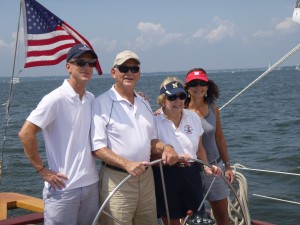 In the morning, Don, a sailor from the South River, took the helm of Woodwind for the first time.  He and his family were celebrating his 80th birthday!!  If he's living proof that sailing is good for your health, I think everyone aboard added many days to their lives.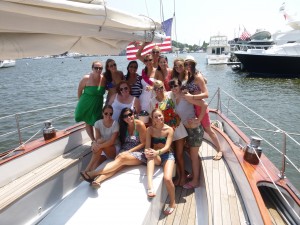 During the same cruise, Amy and her friends started their big day in Annapolis.   They were the first of 3 bachelorette parties aboard today.  It must have been a wild night in Naptown!
By the late afternoon, the wind speed hit the middle teens.  The guests were stoked, we were  able to 'take 'em to the bridge!' James Brown would have been proud.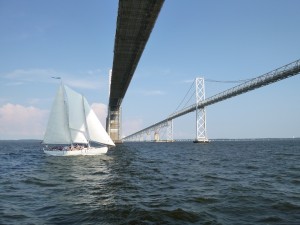 We met Woodwind II under the bridge.  Our crewmate Jocelyn took this beautiful photo after they executed a great tack, their acceleration was awesome.
Here's a photo of her taking us home at the end of the day!