We had four terrific sails today. The wind was perfect. Blowing from the ESE at 10-15 knots all day. It was a great direction for going toward the Bay Bridge and we actually made it under the Bridge on 3 out of 4 sails.
It was also the day of birthdays. On every trip we did today we had people celebrating their birthdays.(Congratulations to all).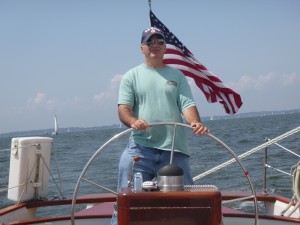 Bill's daughter brought him out on the Woodwind as a birthday treat. And he did a great job driving the boat!
The sunset sail was the best though, we made it under the bridge with only 3 sails up but decided to put up the Fisherman sail for the trip back. This made the sail very exciting and the guests had a ball. We were treated to another great sunset.