What a day!  Amazing wind for the middle of summer. You have to love the days, as a captain, when you need to warn people where the "splash zone" is. On the first sail, we had 20-25 knot winds and sailed under the bridge in what felt like record time. On the way back to Annapolis, we had waves spraying the first 15 passengers in the bow. They loved it.
So when we returned, we warned the next group. Not as much spray since we took a slightly different route since the incredible wind shifted more to the south. Again, record time crossing the Bay. Over 10 knots.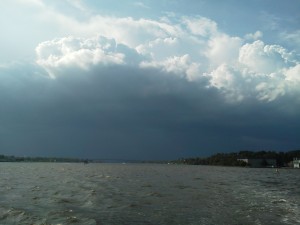 On the third cruise, we decided to stay a little closer to town, since there were some storms on the radar. With the wind still kickin' (technical term), we made it almost to mid-Bay, turned and headed back up the Severn. As we sailed on the backside of the USNA, we saw the storm clouds darken.  Looking at the radar, it looked like most would pass us by a mile. Then I saw a distant lightning bolt (no thunder) and decided to drop sails. We came in 25 minutes early. Guests were so pleased with the sail that many didn't think we were going to have. All smiles, all around.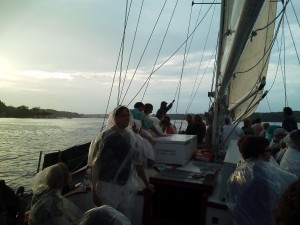 For the last cruise, the storm passed and we were left with very light winds and dramatic clouds. We sailed out in the Bay to find more wind, and then found more in the Severn. We sailed under the Rt. 450 bridge and were delighted by the sun that came out of the sky as it started to drizzle. The rain fell harder and the sun shone brighter. And then the rainbow! Such a great way to end the windy day. We sailed into Weems Creek and back into the harbor. As did our "harbor burn" the rain stopped and all guests took off their complimentary ponchos. Everyone enjoyed the eerie sail.