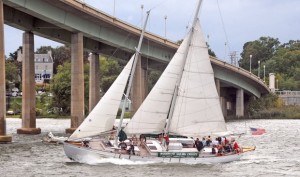 The forecasts for today was a small craft advisory in the morning, then a gale warning for the afternoon, and then strong storms near 5:00. We had a 12:30-5:00 team building program where the clients learn how to sail the schooner and then race against their other team.
With these wind conditions, Mike (the other captain) and I decided to go with a double reefed main and the fore-staysail. This would give us the most reduced sail area that the boat could have with still being balanced.
The group was so enthusiastic on the dock! They were ready for a race and to take on the windy conditions in a safe manner. Aboard my boat we had the leader of the whole group and the person who put the whole meeting together.  They all introduced themselves to each other, how long they were with the company, and then split themselves into 2 sail handling teams, one navigation team, and one leadership team who would take the helm and give the commands. For more on how this team building program works, click here.
All the guests enjoyed learning their tasks. The folks in the front of the boat doing the fore-staysail loved sailing into the Bay where the waves and wind sent water coming over the bow. When the folks in the back of the boat got wet, they thought, maybe it would be better up the Severn.
We trained them and tested them on how they worked as a team. They did great. Before we had a chance to race, dark clouds emerged around 4:00 and we headed in. This was just as the raindrops started falling. They loved their adventure with us!