Today we had a 4 1/2 hour team-building cruise on the Bay. A company chartered us out to have their team have fun, but also work together. It was a nice small group of only 12 people, so after lunch, we started the training.
It was very interesting to see how everyone got along and how they worked through problems. After about 2 hours of training in very specific groups, we challenge them. This means that we give them the challenge to sail around a per-designated course. This needs to be done with as little help from the Woodwind's crew and captain.
When we set them free, it is quite nerve racking. First they have to find out where they are and then communicate how to get around the course. This team work is between the leadership team (captains) and the navigation team. Once they decide on strategy, then they have to give the game plan to the entire team and execute it.
This team did well at this challenge. When they worked together it was great. When they questioned each other, things started to fall apart. When beer was the reward, they perked back up and sailed us pretty well to the finish line.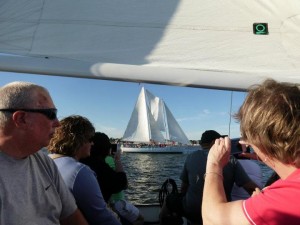 All of us had our own team challenge after this cruise. We had our Wednesday Night Race. Captain Ken has sailed two great races in a row and is on a streak. So, we had to work together in order to beat their team. We had a great start and held it all the way to the finish line. For a play-by-play and pictures, click here.