Everyone talks about team work, but really what is it? That was our challenge today with our JUNIOR Girl Scouts from Vienna, VA. So imagine, 26 girls that ranged from 9-11 years old. They all signed up for the "Power of Team" Sailing Cruise. This is where the crew and captain train the girls to sail the boat as a team.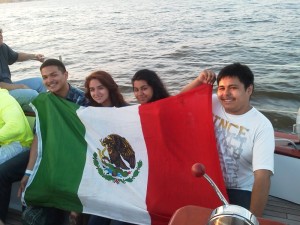 Well, these girls were excited and motivated to sail! They learned how to work all four sails, keep a proper lookout and steer the boat. By the end of the cruise, these girls were communicating with the "prepare to…" commands, asking to see if the team was ready and then executing the task.  These girls were so into the tasks of sailing, that we didn't want to disturb them with snack service because we would never get their attention back. They did awesome and they all realized how a team could work well together!
On our sunset sail, we had a group of 32 guests that all came together. Many looked like high schoolers with a bunch of chaperones. After we left the dock, I asked how they all knew each other.  Their answer was all about teamwork, from the teachers, chaperones, mentors to students!  This was awesome!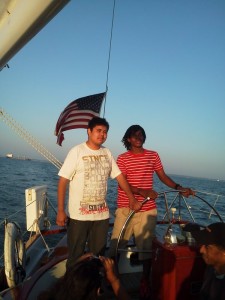 "The students of MINDDRIVE are recruited from the urban core of Kansas City, including Kansas City, Mo. and Kansas City, Kan.  We also have a few students who come from rural communities, well outside what you would call "urban."
Our focus is on students who are "at-risk" and for our purposes, this means that they are slipping through the cracks of the "traditional" educational system in one way or another.  Our experiential learning techniques, hands-on learning and one-on-one mentoring enables us to reach these students in a new way, inspiring them to want to learn in their core subjects in school.  We are able to address the individual student and help him or her through the blockages he or she may be experiencing that hinder learning."
Check out this video!!  http://youtu.be/zHj7vusmtCQ
What an amazing project that they converted an old VW Karmann Ghia into an electric car powered by social media!  What a great idea for these students. This is teamwork at it's best!
This is how they spent their last day in the DC region, a celebratory sail on the Schooner Woodwind!
http://www.mindrive.org
Good luck students, you all were inspirations to us!