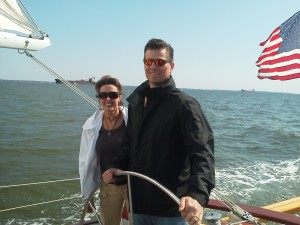 Today is the last day at the Annapolis Waterfront Hotel until October 17, since the US Sailboat Show set-up starts later this evening. The Sailboat Show runs from October 4-8, click here for more info on how to sail with us then.
Today was a stunningly beautiful day. We had great winds, although very flukey for most of the day. We almost made it to Thomas Point Lighthouse 2 times. On our first cruise, we had some gusts over 16 knots and the boat heeled way over. People were happy that we weren't leaning the entire cruise. At times we would hit lulls in the wind, where we were barely making 5 knots. Fun day!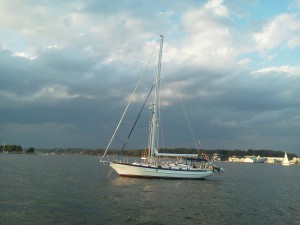 On the sunset sail, we left under golden sunshine and darker clouds behind us. It was gorgeous how the sails of the Woodwind were illuminated. Just as the wind seemed to dwindle entirely, I looked up the Severn River and saw a smaller boat with their sails luffing while healing way over. I turned the boat towards the Severn, and asked the crew to get ready to lower the fisherman. When the wind came, it was chilly!! And it was plentiful.  The boat sailed really well as we headed up the Severn. More wind came, and I lowered the stay sail as well. We sailed up to the Rt. 450 bridge and back to Annapolis. As we were heading in, the moon rose in a golden glow, peaking behind the clouds. We got to the dock, on time, just as the drizzle started to appear.