The wind blew from the South West today.  It was an easy beam reach as we headed out across the bay.  The Kermizian, Hadfield and Renda families introduced themselves to me in the cockpit for our 1:30 cruise.  Many of them came from New Jersey on a family outing.  They were a delight to have on board and to watch and listen to their good natured teasing.  They truly enjoyed each others company.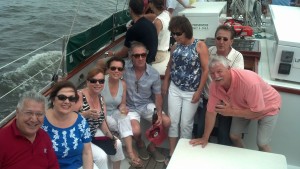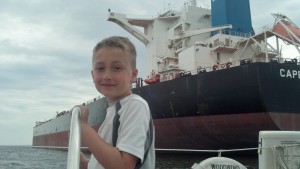 Later in the day we passed the freighter Cape Venture with young Keegan at the helm. This was a totally new experience, but you can see he is enjoying the adventure.  It gave our guests a chance to see what big is really about.  Woodwind is minuscule compared to this 800 foot ship from Limassol, Cyprus.  Don't worry folks, CapeVenture is at anchor.
Jackie took the helm and was surprised to find how easy Woodwind is to sail.