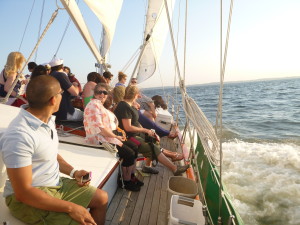 THERE ARE!! And they all found their way to the boat yesterday. All day long we had people aboard celebrating anniversaries, birthdays, bachelorette parties and just plain getting away from it all to go sailing.
And the day could not have been any better. The sun was out and it was nice and warm and as soon as we left the dock the breeze kicked in to cool everyone off an make the sailing fantastic.
Our 1st sail of the day started out with at least 5 birthday celebrants aboard and one anniversary.
Our next sail we had another anniversary.
On our 3rd sail we had 2 bachelorette parties aboard.(WOW).. best wishes to both of the brides to be. You picked a great day to come sailing.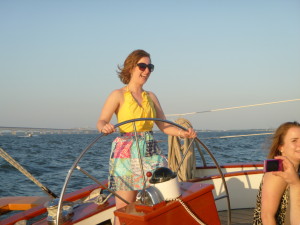 Our sunset sail had several birthday parties going on. One group of 20 came from DC to celebrate their friends bday. And boy did they have a good time!!
We also had 3 couples that joined us for our B&B sail. They did our sunset sail, had dinner ashore then spent the night on the boat. Nice! And to top it off they got a great breakfast in the cockpit in the morning. It was a pleasure having you all aboard.