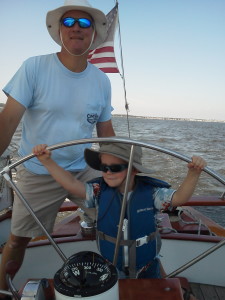 Winds 10-15 knots from the North East, temps in the high 70s, a couple of clouds in the sky and tons of boats on the Chesapeake were the ingredients of a spectacular Saturday.
The first sail started with an exuberant bachelorette  party for Colby with 11 of her friends. Other folks shared this cool sail across the Bay including Mark, a crew-member, and his family and frequent sailors Russ & Joyce who helped us win the Schooner Race last year.
On the second sail we were able to see all the of the CRAB regatta participants sailing back into the harbor. One of the boats was Dave Gendell and Dick Franyo from the Boatyard Bar & Grill. When we told the boat who they were, one of the guests yelled, "I want the recipe for your amazing crab dip!"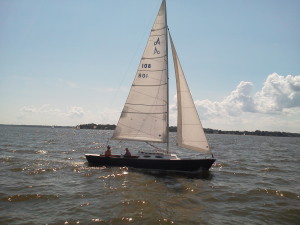 All of the sails were spectacular as we sailed across the Bay.  For the sunset sail the wind actually picked up to around 15 knots and the sunset was delightful.
All week I was looking forward to being the Boat & Breakfast Captain to see the sunrise in the morning… I was not disappointed.