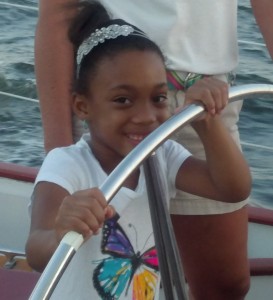 Was today perfect sailing conditions?  Taneka thought so. She is in first grade and her smile is the best answer to the question.  We had 15+ knots from the South with sunny skies.
We have just passed under the Bay Bridge, thinking, "10 knots is really fast."  Crew member Jocelyn clears her throat and says, "Turn around.  We are not alone!"  Rena and I are not in the least concerned.
These freighters are around 800 feet long and can cruise at over 20 knots.  In the bay they keep their speed to around 10 to 15 knots.  The one pictured above is empty.  She is headed up to Baltimore to pick up cargo that may be carried around the world.  More cargo is carried by ship then by any other means.  The hull is black and the anti-fouling paint is red.  When full, only the black hull is exposed.  The anti-fouling paint is what prevents barnacles from adhering to the hull and reducing speed and increasing fuel consumption.  We do keep a sharp lookout for these vessels.  As you can see by the last photo, despite our antics, we are well clear of the vessel.
To cap off the day we are treated to a beautiful sunset.