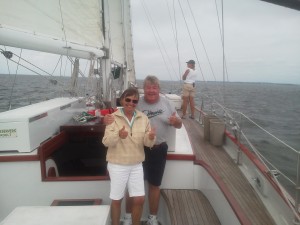 Woke up to the sound of rain. So much rain, that no one signed up for the first sail today.  By the second sail, 3:00-5:00, we had 2 lovely people sign up. They had a private cruise (for $72)!  We had perfect wind and made it under the Bay Bridge and back. Maureen and Jim both commented that they loved going under the bridge than going on the bridge.
Jim also spotted the log adrift that the USCG kept chatting about on the radio. We gave them an updated position as it floated into safer water.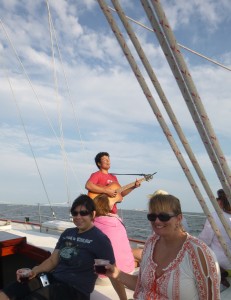 On our sunset sail, we had my friend, singer-songwriter extraordinaire, Austin Ellis perform aboard. He sang all original music in his soulful, sultry voice. The guests were all captivated by his music.
We were sailing at about 10 knots the entire cruise. The boat was heeling over nicely, even some splashes over the bow! A crowd of around 21 people were aboard to sail with us on quite possibly the best cruise of the summer!
Austin's music was the perfect accompaniment as the sun was setting over the Annapolis city's skyline.  Check out more of his music: http://austinellismusic.com/fr_home.cfm