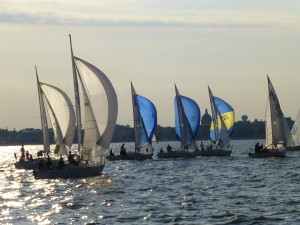 We had just one sail today on the Woodwind, the other boat had all four cruises, but we only had one. Tonight was a private event, I call it a shmooze cruise. Well the weather and breeze could not have been any better for saying thank you to your best customers.
We put up 3 sails and sailed across the Bay. We served the catered food as we passed the Thursday night race fleet of J-22s, J-24s, J-80s and J-70s. What a delightful back drop! And we stayed down wind of the entire fleet so that we would not effect the night's race results with our big wind shadow.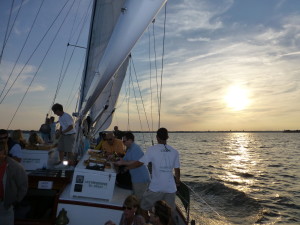 Just a few guests wanted to steer the boat. But they enjoyed it thoroughly, especially with the cool breezes. We were averaging around 8 knots as we crossed the Chesapeake Bay.
They say pictures say a 1000 words, here's some images: