We had 4 great sails today, and being out on the bay was the place to be today. With the heat inshore it paid to be out in the breeze and sailing.
We had breeze on all our sails except the last 30 minutes of our 4:00 sail. We had a lot of fun groups out with us today starting with a Brownie troop doing our Wonders of the Water program on our 1st sail.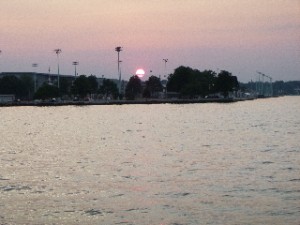 On our 2nd sail we had a Bachelorette party and the High school reunion group from the Severna Park High school from the calls of 1969. We actually had enough wind to make it under the bay bridge and back. We had a birthday girl on our 3rd sail celebrating the 10th anniversary of her 21st bday(yeah).
Our sunset sail had another Bachelorette party out and all were treated to a fabulous sunset over the Naval Academy.