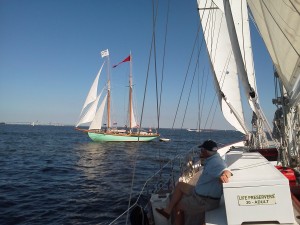 I hope this fall sailing pattern is setting in. We have had some  glorious sailing days in the past 5 days. Today was no different, we had winds just topping 10 knots and beautiful blue, crisp skies.
The first trip filled up quick for a mid-week lunch-time cruise. A local association treated their employees to an impromptu 2-hour sail on the Woodwind. One of the guests said that when she arrived to work, the boss was loading up 2 vans for an Annapolis adventure. They had no idea they were going to be having an early lunch at Pusser's Caribbean Grille and then set sail for 2 hours. They all loved getting out into the middle of the Bay with the cool breeze and warm sunshine.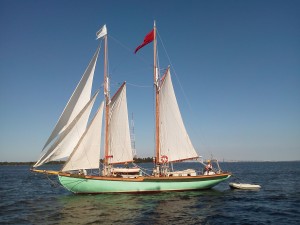 Our second cruise was a light lighter in guests, but heavy in personality. It was a sailor reunion. There were 4 gentlemen aboard that used to sail together all the time in the Chesapeake Bay. They all had their own boats, but they would take turn on which boat they would sail on. This was their reunion! Now 2 live in Atlanta, one in San Francisco and one still in Maryland.
Picture… 4 old salts, 4 other sailing enthusiasts and our all girl crew. It couldn't have been a better match. (Sorry Old Salts, but when you come on the boat saying, "who's driving this thing" and give us a hard time about the difference between ropes and lines… Old Salts fit you 4 guys perfectly.) They loved watching all us girls run this boat effectively and fast!
Anyway, we were all delighted by the Schooner Martha White sailing in under full sail into Annapolis Harbor. Martha White is a gorgeous, gaff rigged schooner launched in 1973. Read more about the Schooner Martha White here.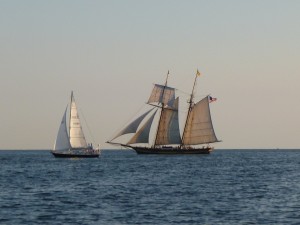 During the sunset sail, we were delighted to see the Pride of Baltimore II out sailing with 5 sails up! It's so fun when they visit town, all the powerboats rush out to get pictures of them and all the sailors try (perfect word) to catch them. The Pride of Baltimore II usually passes everyone else. We are getting very excited for Schooner Race, which is coming up on October 14.
If you think these pictures are fun… play hooky (or convince your boss for an outing) on October 14 and cheer on the Woodwind from Woodwind II as we start the Great Chesapeake Bay Schooner Race. More details about the cruise to watch the start of the race, here.