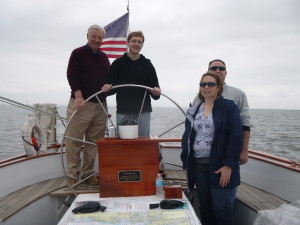 And it turned into a wonderful sailing day. I think the forecast scared everyone away. But it didn't stop the Hannon family from Manassas.
It turned into a private cruise. They were all gathered to celebrate Tim's graduation from Virginia Tech. What a great way to spend the morning. We sailed out into the bay and toward the Bay Bridge with the breeze blowing at 8-10 knots the boat was moving along at 7 knots and heeling over nicely.
Dick used to be and avid Aqua Finn sailor and enjoyed having having some helm time. He did have a bad case of tilleritis though and kept trying to steer us in the wrong direction. We did somehow manage to make it safely home(haha!).Thanks Dick we enjoyed having you all out this morning.
Our next 2 trips did not go out but we took the opportunity to go out and do some emergency drills with some of the newer staff so they could learn and it also served as a refresher for the seasoned crew. We are required by the USCG to conduct regular drills to keep all the crew ready and trained to respond to an emergency if necessary.
Monday night is always our History Monday cruise and we welcomed Janet Williman from Historic Annapolis aboard for the evening. Janet filled us with historical information about the naval Academy and the town of Annapolis. Everyone thoroughly enjoyed the wonderful sunset sail and and all the fun facts. Thank you Janet!