The Woodwind crew, like most mariners, spend a lot of time on and around the water.  Actively and inactively, we engage in "boatspotting", which I akin to the trainspotting hobby of railroad enthusiasts.  We geek out over boats and recognize them by their lines, sail plan, and routes.  This is a casual game of familiarity.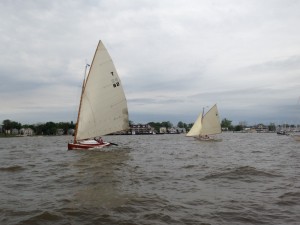 This morning, while motoring up around Horn Point, we were treated to the start of 3rd Annual Elf Classic Yacht Regatta.  This race is organized by the Classic Yacht Restoration Guild, honoring the racing style of the 1880's.  The race begins ashore in Annapolis, suggesting rowing to the boat at anchor or on a mooring, then setting sail.  The race finishes ashore at the Chesapeake Bay Maritime Museum. The race featured some local favorites as well as competitors from around the bay.
Pictured to the left is the Catboat Silent Maid of the Independence Seaport Museum of Philadelphia and the Sandbagger Bear of Annapolis' National Sailing Hall of Fame.  Silent Maid finished 1st in the cruising class, while the Bear finished 2nd in the dayboat class.
All day I was hoping to spot the departure of the Ocean Research Project's R/V Ault, but alas she escaped my boatspotting radar.  This vessel departed Annapolis today under the command of local hero Matt Rutherford and the scientist and self proclaimed schooner girl Nicole Trenholm.  They are headed to the Sargasso Sea to conduct data collection for important research regarding marine pollution, marine life, and climate.  Check out their webpage oceanresearchproject.org  Maybe I'll spot them on their return to Annapolis!