Yesterday, an awesome cold front moved across the Chesapeake.  The temperature dropped 25 degrees in 30 minutes!  This brought some very mild and comfortable conditions today.  The air had the crisp smell and feel of the autumn season.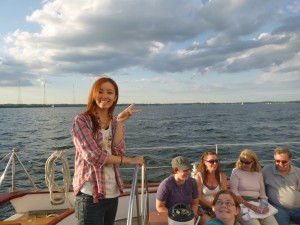 Aboard the boat today we had a girl from Tokyo!  She was a former exchange student visiting her host family after 6 years.  This was her first time at the helm of a sailboat.   After the Chesapeake, she's headed to Utah!  Lucky girl!
Later in the day, we had some guests from Jordan aboard.  One of them commented that the green waters of the bay were a welcome change from the desert!