We had the most incredible day of sailing yesterday. Everyone who came out with us was treated to one of the better days of sailing we've had in a long time.
The temperatures felt like a nice fall day. Cool, crisp and really clear. The visibility was fantastic up and down the bay all day. The winds were blowing 12-15 knots all day from the North to NW and it was perfect for sailing to the Bay Bridge.
Our 1st sail of the day was a private charter and we sailed all the way to the Bay Bridge and back. On our journey there we picked up a very special passenger.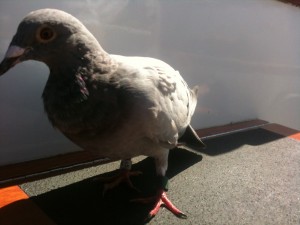 This little pigeon landed in the cockpit about 40 minutes into the trip and stayed with us for the remainder of the voyage. He looked exhausted. When we got back to the dock I picked him up and sat him on a piling and he stayed on the dock for the next hour or so. Good luck Mr. Pigeon
On our next trip we sailed all the way under the bridge and maybe a mile or so past. The winds were picking up and the boat was running at 10 knots on a close reach. Exhilarating. I gave up the helm to all who wanted to drive and everyone enjoyed themselves. Even the crew took turns driving. We don't see many days like this.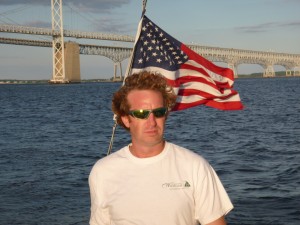 Our next sail we made it under the bridge again and we had frequent sailors with us enjoying the wonderful weather. Sandra from Alexandria comes out with us quite a bit and took a turn at the helm during some of the big winds and thouroughly enjoyed herself. Good to see you Sandra.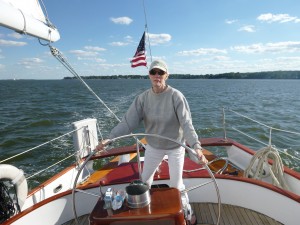 The last sail of the day is always the best. Not because the day is over, we still wanted to sail, but because of the wonderful sunsets over the city of Annapolis. Tonight we had Tony and Janis out celebrating their 1st anniversary(congratulations you guys) and we enjoyed one heck of a sunset. What a way to end such a fabulous day!!