Thursday was a great day for sailing. The temperature was down and the winds were up . We sailed under the Bay Bridges 3 out of 4 of our trips.
We had some great folks out today as well.
On our 1st trip of the day Joe came out with his grandfather and helped me steer most of the trip. Joe is a big sailor and his dad has a small boat that he sails on all the time.
He was a natural. I may have to fight for my job in a few years.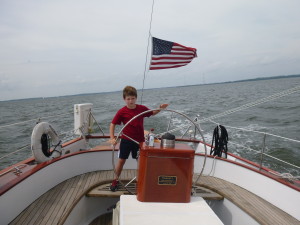 We also had Skip out with his family celebrating his birthday, Happy Birthday Skip, and he took the wheel with his daughter Sydney.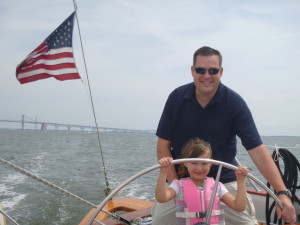 On our next trip we had only 3 people out. Yeah, we went sailing. Dayana is from DC and her mother and grandmother were in  town visiting after her brothers wedding. It was fun to have 3 generations of one family out.
Dayana took a spin at the wheel and is now enrolling in sail in 101.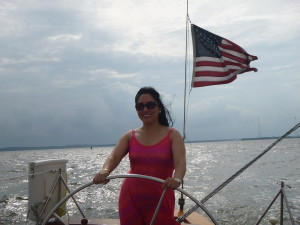 Our sunset sail was fantastic. the winds piped up a little more and we only used 3 of 4 sails and still made it under the bridge and back. It was also the triumphant return of one our great crew members the amazing Sarah Buhlman(yeah). It was so good to see her and her family.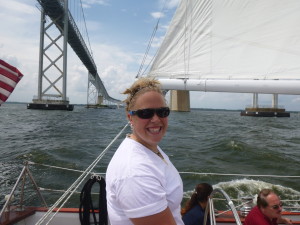 Good luck in your next adventure and we can't wait to see you again and here all about it!!!