We always get the most wonderful people that sail on the Woodwinds!
On our 11:00 sail, we only had 7 guests aboard. But they felt like friends immediately.  Dave was celebrating his birthday with his grandparents (almost 21st birthday) and he had a blast learning all about sailing. He was hooked into the love and lore of sailing instantly.
On our 1:30 sail, we had a couple who got married aboard the boat 9 years ago, come out for their anniversary sail.  They sail with us every year around their anniversary and were treated to a beautiful sail into the Bay.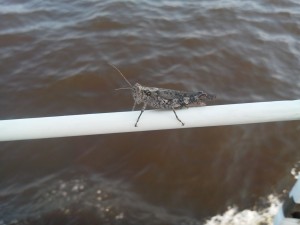 On our 4:00 sail, we had a friend hop aboard. It was a grasshopper, I believe. so we named him Woody. He wasn't aboard when we left the dock, but around 4:20 a guest spotted him on the lifeline. He sailed with us almost to the Bay Bridge and back. He kept walking up and down the port side of the boat's lifeline. When we docked, he was no where to be seen. Where did Woody go?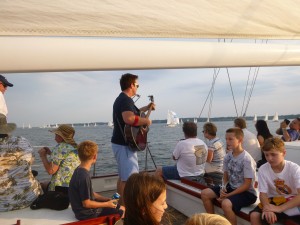 And our sunset sail tonight had a local musician aboard. Sean Tracy originated from Tennessee,  Connecticut and now DC.  He sang wonderful original music with his guitar and harmonica. For his backdrop, he had a large regatta from the J-Boats Chesapeake. As he's playing, they were racing and we were just on the outskirts of them all. Perfect.  (He has free downloads of his music here. He told me to pass this on!)
Light breezes made the music sail nicely across the boat. Sean did great, tacking and gybing under the staysail boom for every maneuver.  All while singing some amazing songs. It got real exciting as we sailed back into the Severn and the wind picked up to 15-20 knots. Sean kept playing his music as we lowered a sail to keep the boat sailing fast without being over-powered.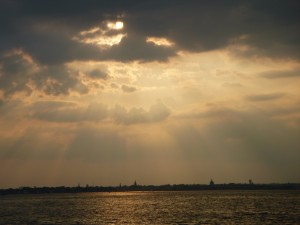 We felt 5-10 raindrops right as we made it back to the dock after a wonderful evening sunset sail.