We only had one sail today, a round trip private cruise to Cantler's Crab House. This is my first cruise to Cantler's on Woodwind this season so I was excited for it.
The wind was blowing beautifully, 10 knots, from the NW as we gybed our way out of the Severn with about 35 guests. They were enjoying the nice breeze on a hot day, and really loving the beer selection and of course, the beer too.
They brought a boom box with the intention of doing karaoke. No takers (thankfully) however the dance music blaring towards the foredeck led all of the sailors back towards the cockpit to talk with me.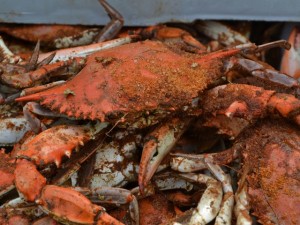 We arrived at Cantler's and the group dug into an all-you-can-eat crab feast. The crew and I opted for the air conditioned area in the restaurant and decided to enjoy salads and sandwiches. The guests loved the crab eating experience!
They enjoyed the drinking too.
We had to motor back to the Annapolis Waterfront Hotel, but were treated to a nice sunset… with dance music.
I am getting to know myself… and I have turned into an old salt. I love the serenity of the music of nature and hearing the whoosh of the water go by with the ospreys chirping.