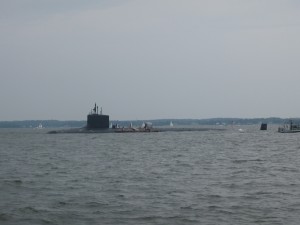 The first day of Labor Day Weekend has begun. We had about 25 people on our early sail and we had about 10-14 knots of breeze. Within a half hour of the sail, we spot a submarine in the distance. We just had to check it out.  I decided to circumnavigate the sub, while staying behind the safety zone. We all had a great view of the sub. The winds were right on the nose on the way back, so we tacked back to Annapolis, arriving ten minutes late. It was worth it.
On the second sail, we were able to check out Annapolis Race Week. There are over 200 sailboats racing on the Chesapeake in 5 separate race courses over the long weekend.  We sailed down to the J-80, J-105 and J-30 fleet. We arrived just as they were going around their leeward mark where they were lowering their colorful spinnakers.
On the last sail, we waited 10 minutes for the bachelor to get to the dock. His party of 8 all had made it to the boat on time, and he parked further away. We had a light breeze and ghosted into the Bay. It was a very nice sail and the bachelor got up to sail. He was getting married on Monday. He is a sailor and he is going to sail his own 30-ft sailboat to Herrigton Harbor tomorrow where he was getting married. After the wedding they are to sail away on the boat (into the sunset, of course). I hope they have smooth sailing!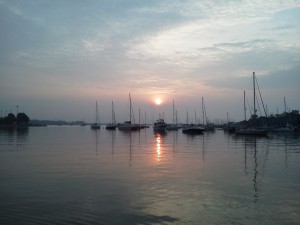 We had to head back to the dock 15 minutes early as a storm started forming up the Severn River. We got back to the dock, just as the raindrops started to fall.
I also was the Boat & Breakfast captain, and we had a gorgeous sunrise!