If you would have told me that I would be sailing in this kind of weather in June in Annapolis , I would have thought you were joking. We had cool temps. and a nice breeze that just made it so enjoyable to be out on the water.
On our 1st trip of the day we had a group of 34 Brownies from troop 4387 from Potomac area that did our Wonders of the water program. What fun. They learned a lot about the boat and the area. They all got to take a turn at the wheel also.
On our 2nd trip we had several families and friends out celebrating different things.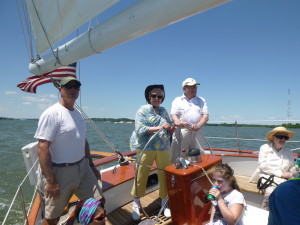 Bill Palmer and his wife were celebrating their 60th wedding anniversary.Congratulations to you guys!!
Allen was out celebrating his birthday with us once again. He and his family joined us last year on this special occasion. It was good to see you again. And Happy Birthday!!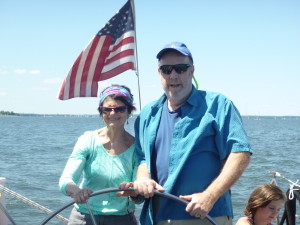 We also had a bride-to-be out with her best friends celebrating… we wish you all the best on your upcoming wedding..
Our 3rd trip of the day was packed. We had a busy day all day but the temp. was nice and the breezes were good and it was just great day to be out on the water.
Thank you to everyone who joined us today
Capt. Mickey