Annapolis is such a fun place to sail out of.  Today we were able to watch classic wooden boats race in the harbor.  This race was set up by Captain Rick Carrion.  Rick is the captain and owner of the oldest race boat in the USA.  Elf was built in 1888 and has been painstakingly cared for by Captain Rick.  I was able to get this photo of Elf just as she is about to tack, which is why her jib and topsail are luffing.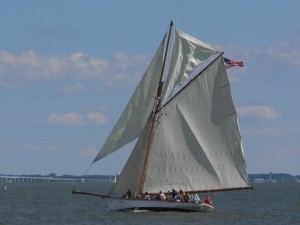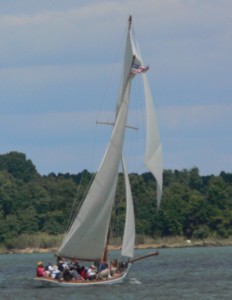 Elf is a gaff rigged sloop, flying her main topsail, stay-sail and jib.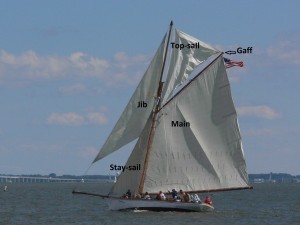 The gaff is spar (stick) on top of the trapezoidal main and the topsail sets above this.  Look at the illustration.  Now you have learned something to impress your friends.  Although rare for a sloop rig today, this was a fairly common rig 100 years ago or more.  As long as your brain is still engaged,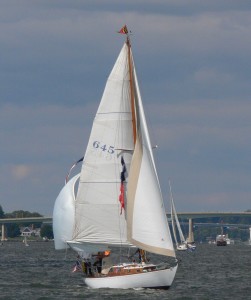 the next photo is a yawl (southern boat?) with jib, main and mizzen set.  Well, you can't see the mizzen, but you trust me, right?  It is hidden by the mizzen stay-sail.  The mizzen stay-sail is even more rare to see.  This yawl was probably built between 1920 and 1950.  The pretty little double-ender sloop,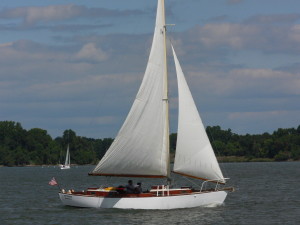 Kittiwake, was probably built during the same period as the yawl.  The double ends are purposely built so that you can sail her backwards as easily as forwards.  Um, if you believe that, do I have a deal for you!
In contrast, the next photos are modern Navy 44s.  No secret here, they are sloops that are, you guessed it, 44 feet long.  Sloops use spinnakers, when racing downwind.  These colorful sails are huge!  When the spinnaker goes up, the jib comes down.  At least that is the plan, however sometimes it is not so easy, as shown in this photo.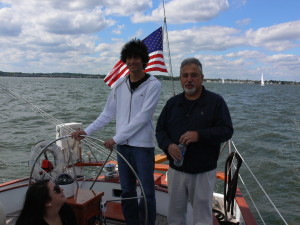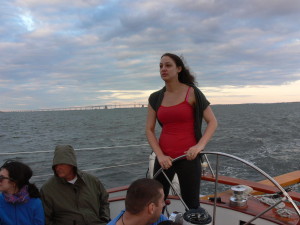 We had help today from Chris, Max  and Ariel at the helm.