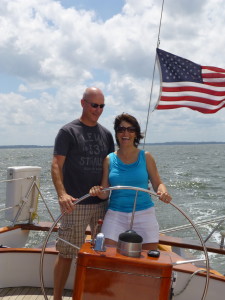 Predictions for a breezy afternoon came true!  Great winds on all the sailing trips made for a terrific day of sailing on the Bay.
On our first cruise, we scooted nicely under the Bay Bridge and back. As we headed to the bridge, one of the passengers, Donna, said to me. "It is so great that you are our captain today! Two years ago, Scott & I had our first date on the Woodwind and you were our captain. We had known each other in high school, but got together many, many years later. We just got married this morning in Annapolis and then wanted to sail on the Woodwind!"  WOW!! Congratulations Donna & Scott Richardson!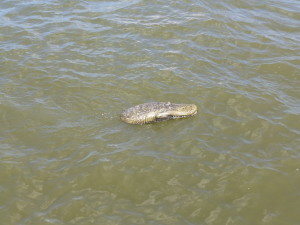 Between cruises an alligator appeared in Ego Alley.  This alligator was headed right for a jet ski. The driver of the jet-ski was so confused… could there really be an alligator in ego alley? Then I saw this man on the other side of the alley grinning with a gadget in his hand… it was a remote controlled alligator head! Looked pretty real.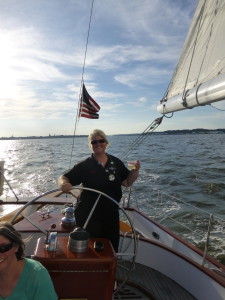 The last cruise of the day was a private 50th birthday party for Beth Berry. Her Dad arranged the party and half the guests were sailors. Some I've sailed with before. She had the perfect weather, on the perfect boat and with her favorite people.