Hello,

I have sailed on Woodwind on numerous occasions. I brought my young (14 yrs.) niece to to enjoy her first sail on Tuesday, July 16th. We were on the 11 a.m. 2 -hour Public Cruise. She LOVED it. She volunteered to raise the sails and she got the opportunity to take the wheel. She was at the helm for a long time and did a great job. She has not stopped talking about this and wants to volunteer if possible to help out on board. I think she is a little young, but she will wait until she is 16 and apply to do anything she can. I will bring her back for more time on board in the meantime.

I am writing also because one of the crew members on our sail took a picture of Makayla at the wheel (helm). I do not know what you do with the photos, but we would love to have a copy for her scrapbook. She came home and sat down at the computer and wrote about her 2 hours on Woodwind. She said it was the most amazing day of her life! Could we have a copy of the photo for her mom? It can be emailed to me at this email address:. I would very much appreciate it. Many thanks for all the wonderful days on the water that I have enjoyed with you over the past several years.

Constance Harris

 
This email was forwarded me from the owners of the Woodwind and as soon as I read it I remembered the trip that Makayla and her aunt sailed with us. I think I remember her telling me that her grandfather was a ships captain. As you can see by the photos she really enjoyed her time at the helm.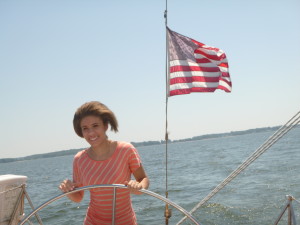 We always love when we get people to return and sail with us again and again. We are all part of one big family and it is always a pleasure to welcome back our frequent sailors.
Thank you for sharing this wonderful story. I am sure everyone else will feel touched in the same way as I do when they read this.
I have been on or under the water for my entire life, as a boat captain and Scuba Instructor, and still enjoy every single day that I am on the water. If this is your passion then follow it and if there is anything that we can do to encourage you or help you we would be glad to share our knowledge with you.
Good luck in your endeavors.
Captain Mickey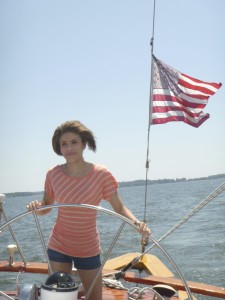 Makayla and Constance we look forward to your next voyage with us.