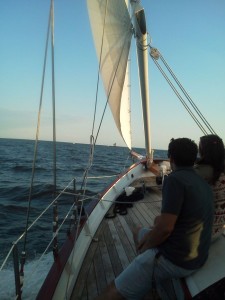 What amazing day on the water! Winds were blowing around 15 knots from the West– perfect for possibly making Thomas Point Lighthouse.
Our first cruise which was nearly a sell out,  was cool, sunny and breezy. All 4 sails were hoisted as we headed down the Bay. We arrived to Thomas Point Lighthouse quickly, averaging 9 knots. Upon turning around, we had a great sail back into Annapolis racing all the boats on the Bay. As we were making our way into the Severn River, an older gentlemen at the wheel lost his hat overboard. Not just any hat… his hat celebrating his year of graduation from the USNA. And not any year… but in 1946- when there were no graduates because they sent them into war one year earlier! (He told me they still go by the class of 1946.) We circled back around twice to retrieve the black hat in the dark water. Aubrei kept a great eye on it, while Danny grabbed it with the boat hook, and Megan was trimming all the sails. A standing ovation was had for all of us! One of the best cruises of the year!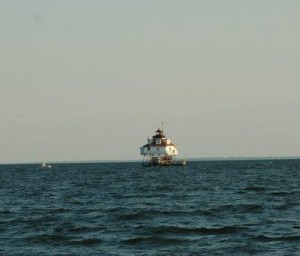 Our second cruise was filled with 15 junior girl scouts and their parents and siblings. We taught them our "Sailing and Navigation" program aboard the Woodwind, where they learn basics of navigation, terms used by sailors, parts of the boat and, new this year- 100 years of history of the Sea and USNA. The girls loved the program! They recited back all of the information they learned so they could steer the Woodwind for about 5 minutes each. Listening to some of the Dads' comments were funny… "I love these events, so much better than cutting the grass!" "It's so nice to sit back and relax and watch the crew train the girls." "This is the most relaxed I've been in weeks!"
Our third cruise had a mix of couples, families and a small Brownie girl scout program. These Brownies were so cute as they learned about the "Wonders of Water" program aboard. They could not wait to come back and share all of their new found knowledge of the Bay, boat and the water. I learned that at this age, 7-8 years old, its not about knowing the right answer… it's about how high their hand can go.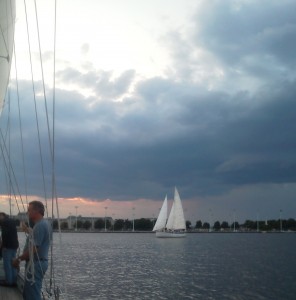 Our sunset sail of the day was very, very special! Back down to Thomas Point was the hope of mine. The wind picked up slightly and mother nature sure wanted to help us get down to the lighthouse. As we sailed down there at 9 knots, we notice storm clouds building over Baltimore.  After checking the radar, I decided to turn around right before the lighthouse and head back. As we approached the Severn the sky turned darker and darker, but the full moon rose along the eastern shore brighter and brighter. Check out more photos on our Facebook page here!