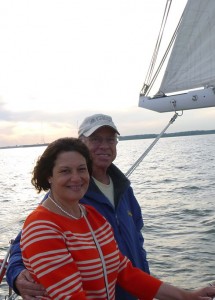 Wwhhhhhhooooeeeee, there was a lot of athletic activity around Annapolis today!  The morning preparations aboard Woodwind  were accompanied by rock'n'roll tunes floating over Ego Alley from the Triathalon celebration.  That got us stoked for the forecasted southerlies and the day's high pressure.  After getting underway, we were able to catch some of the racing action on the bay. We saw some competitive mark roundings by the Lightnings, 505's, and Star fleets.  On the inside, we also witnessed the 420's and FJ's competing in the National Collegiate Semifinals, hosted by the Naval Academy.
Did anyone see the sundog today?!  Beautiful full circle rainbow.  Whoa.
Around 1500, we sailed a deep course toward the Robert Crown Center, the Academy's sailing facility.  The French Naval sail training Schooners  Étoile and Belle-Poul  were rafted to the seawall.  After approaching their sterns, while heading up, we greeted their crew with a hearty "Bienvenue!"  We were thrilled to see these visiting sailors in Annapolis.  I think they dig the Woodwind!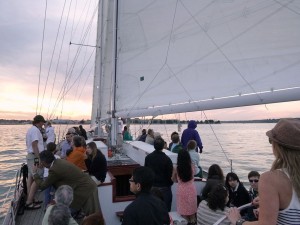 We celebrated the evening with Michelle and Yvonne's birthdays!  And, we had a newly wed couple aboard- Margheurita and Elon were only several hours into their life together as husband and wife.  It was great sailing with this beautiful couple, and meeting their friends and family.  The sunset completed our day in this Chesapeake paradise.