This weekend is the Annapolis Spring Sailboat Show.  This event has been growing bigger every year, and attracts a variety of sailors.  It's a great opportunity to pick up some fresh gear, shop for new rigging, buy the boat of your dreams, or just kick the tires.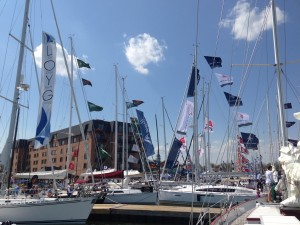 Woodwind and Woodwind II are sailing out of the boat show all weekend.  On Friday, we hosted folks from Tennessee, Indiana, and Pennsylvania, among other places.  We even had 2 West Point graduates on the same sail, but we advised them to keep that to themselves around town 😉  Go Navy!
Saturday's sail brought Steph aboard to celebrate the remaining days of her single life.  We had a beautiful breeze that carried us to the Bay Bridge with a mainsail, staysail, and jib.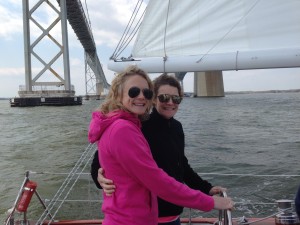 We were also joined by Carol and Bob of Harrisburg, Pennsylvania.  This was the their second sail of the weekend- they can't get enough!  These two are in town to celebrate their 35th wedding anniversary!  I asked them to give Steph some advice on a successful marriage 🙂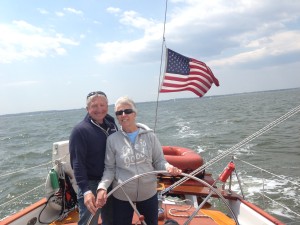 While we were approaching the mouth of the Severn River, the wind set down a touch, so we hoisted the fisherman topsail.  This allowed us to continue to make hull speed, around 9 knots.  As we approached Horn Point, we caught a predictable gust fetching down Back Creek.  The acceleration was exhilarating, I almost lost my mind in the sensation.  Our guest Susan was monitoring the boat's speedometer in the cockpit, "Ten knots!  Ten point two!!  TEN POINT FIVE!!!"  She snapped this picture of the display just after the gust.