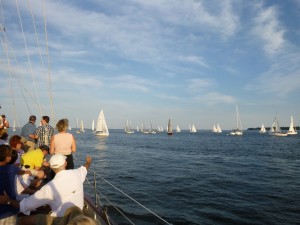 Thursday Sunset!!  This is becoming one of my favorite times to sail.  After departing the harbor, we buzzed the start line of the J boat races.
Also, this evening we were stoked to have Kevin and Tom of Them Eastport Oyster Boys aboard!  They played some awesome songs, covering a variety of genres.
They also offered great insight on some local history and Chesapeake culture! If John Smith had an iPod, he would have rocked out to the Oyster Boys.