Monday was a great day for sailing. The  winds were in the teens all day. We were able to get under the bay bridge 2 out of 4 sails.Yeah. On our 1st sail Capt. Jason took the wheel and safely guided us through out the Chesapeake bay and Severn River. Good Job Jason!!!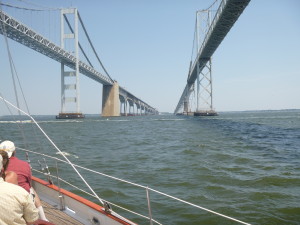 Always fun to make it under the bridge. It gives you a different perspective…..  Our 2nd sail of the day had families from near and far. Frederick,Md. was closest and Phoenix Az. the farthest…Thanks for visiting everyone.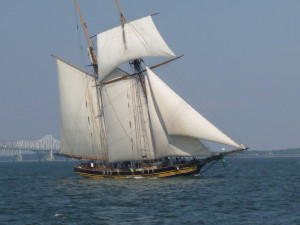 As we were coming up the bay toward the bridge we were treated to the wonderful sight of the Pride of Baltimore II coming down the bay under full sail. What a beauty!!!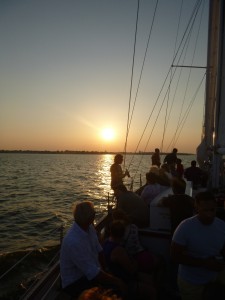 As always Monday nights are history nights aboard the Schooner Woodwind and tonight we had Heather Ersts join the crew and related tales of pirates, battles and treasures on the bay.
Thank you Heather, it is always a pleasure to have you aboard and everyone loves the stories.
Another great day goes into the books. Till next time Capt. Mickey