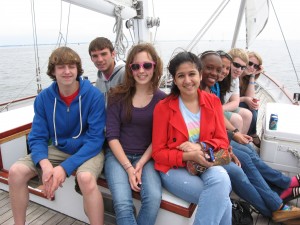 The Woodwind crew welcomed frequent sailor Michelle back aboard for her first sail of the season.  We made way in dying southeasterly breeze toward the northern fleet of the NOOD regatta…just in time for the abandonment after 1 race today.  Hurray for diesel engines and lively crew of guests.  First time sailor Brinn was aboard with her friends, celebrating her Sweet Sixteen.  Happy Birthday Brinn!
At 1430 we made down Back Creek.  Woodwind crew, avid birder, and naturalist Don Avery spoke widely about various birds we encountered up the creek.  We sailed with some folks from DC, former classmates at American University, and frequent sailor Romani and Rob!
The sunset sail proved to be excellent with a wind shift to the NNW and a steady 5-8kts.  Paradise at last!