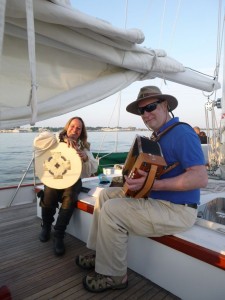 The NOOD Regatta starts today!  I spent yesterday evening catching up with friends that are in town for the races.  Yesterday's sailing aboard Woodwind II let us witness many crews practicing for this weekend's competition.
We also had the opportunity to match race the Woodwind crew with our friends from the Cromwell & Moring law firm.  They were some fun folks, I hope to see them back aboard in the future!  The action after the start was intense with several  boat crossings and close maneuvering.  We were able to overcome a close cover by Woodwind, by executing a fake tack.  This sent Woodwind toward another tack at the Greenbury Point shoal, and granted clear air for Woodwind II.  Still, Captain Ken's Woodwind crew was able to overcome the distance we gained with great boat speed, I think they out trimmed us.  As we rounded the windward mark, the John Smith Weather Buoy, Woodwind gained control of the inside and slowly rolled us.  They sailed high for speed, while we maintained a course closer to the layline.  This proved beneficial by eliminating the need to gybe in the lightening breeze.  Woodwind II crossed the line with Woodwind alongside.  We beat them by 5 feet!  That's good competition.
The evening sail allowed us to take the edge off.  We had Jackie and Don of Hangman's Faire aboard for entertainment.  The sounds of their mandolin and squeezebox complement the sunset like chocolate and peanut butter.