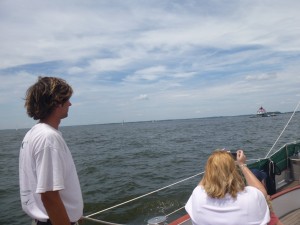 Woodwind II kicked the day off with a Lighthouse Cruise!  We were joined by lecturer Meg Govan of the Annapolis Maritime Museum.  After departing the Annapolis Waterfront Hotel Dock in light airs, we set our main, jib and staysail- and motorsailed to the mouth of the Severn River.  Meg talked about the lighthouse that used to mark Greenbury Point and presented pictures of the old Spider Buoy- the remnants of that light that was further deconstructed several years ago.  I was struck by a bit of nostalgia and amused that I could miss something so unattractive.
After entering the bay, we made south for the green 1AH mark and the beautiful Thomas Point Lighthouse.  While we approached this cottage style screwpile, the breeze filled in from the south.  We quickly set the fisherman topsail and shut down the engine.  The breeze was refreshing!  We had some fun with several tacks close to the lighthouse.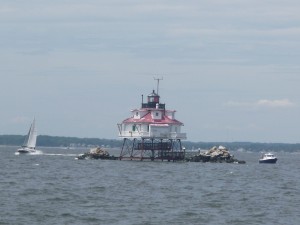 Meg talked about the interesting history of Thomas Point Light.  After snapping some photos, we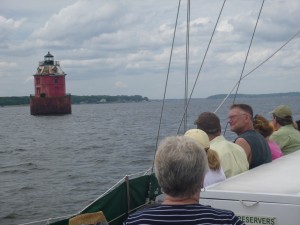 caught a distant view of Bloody Point Light, standing off the southern tip of Kent Island.  From here, young sailor Michael and his pals took the helm.  They headed the boat north through the cargo ship anchorage.    They were celebrating Michael's 12th birthday!  The several mile trip up the bay gave us some time to enjoy some great sandwiches and cold drinks.
After passing under the Bay Bridge, we approached Sandy Point Light, a caisson lighthouse.  This location also allowed us a decent look at Baltimore Light off the mouth of the Magothy River.
After seeing these 4 lighthouses, there was only one thing left to do, SAIL!  On cue, the wind stepped up and afforded us a fast close hauled course back to the Severn River.