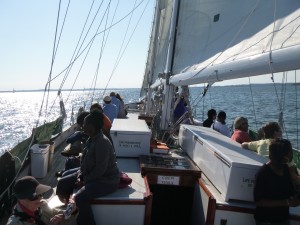 I think the weather has something to do with it, but everyone seems to have a spring in their step and just be in overall good mood. The day was awesome. We had great wind a fun crew and wonderful guests all day.
Our 1st sail started out with several frequent sailors joining us for this great day on the water. Adam and Annie from DC joined us and enjoyed their 1st cold beer free in their Woodwind Koozies. They did have to turn around and go get them, but well worth the trip. It was good to see you again. And this trip filled up their frequent sailor card so their next trip will be FREE. See you soon!
One of our crew  members family was visiting and Nathan brought them out for the sail. I think they were checking up on him to make sure we took care of him this summer.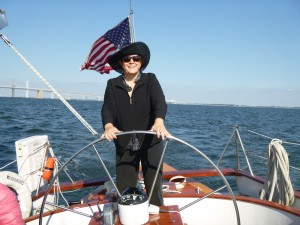 On our 2nd cruise we had Connie celebrating her 75th birthday and she took the wheel for awhile. I think she liked it. We also had some visiting sailors from Lake Ontario and their son Jordan took the helm and is ready for summer and sailing camp again to be here.
Our 3rd cruise was another one of those great Annapolis sunsets. When seen from the water they are always amazing. We had a couple of Mass. Maritime graduates aboard. One of them took the wheel and said it felt funny driving such a small ship. She is 1st mate on an oil tanker and her friend was an engineer. Good luck to you guys it was a pleasure having you aboard.