US Sailboat Show Cruises – Friday
October 6, 2017
$45.00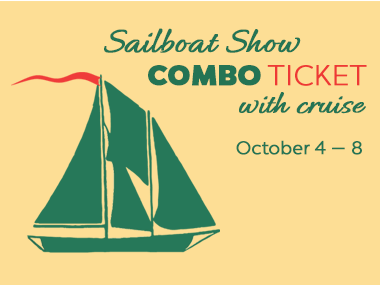 "Woodwind" sails up to four times daily on 90 minute cruises from temporary docks throughout the Sailboat Show October 5th – 9th from Dock "F2".

Combo-Ticket Deal! Save up to a 40% discount off your ticket into the Boat Show by buying a 90 minute schooner cruise combined with your Sailboat Show Ticket. 
What is the Sailboat Boat Show?
It is a collection of sailboats and vendors who are selling their boats, products, classes and more. There are boats of all sizes and they are open for you to go aboard.  Many of the vendors have great deals on outdoor clothing, footwear, sunglasses and more. More Info
Sailing Tickets can be bought online or directly from the booth in the Sailboat Show.
For all cruises, you must have a ticket into the show, so all sailing cruise tickets include discounted  Boat Show admission. Already bought your ticket for Boat Show?  You can buy a "Sail Only" ticket.
Friday, October 6, 2017
11:00-12:30
1:30-3:00
4:00-5:30
5:45-7:15 (Sunset Sail)
Adult Cruise + Discounted Admission Ticket for Boat Show: $45
Child Cruise (7-11) + Discounted Admission Ticket for Boat Show: $31
Child under 7 (no Boat Show Ticket needed): $25
Select "Buy Tickets Now" for more information and to purchase your tickets
The Cut-off for Advance Online Ticket Sales is 12 Hours Before the Cruise. (Tickets may be available at Dock F2 inside the Boat Show right up to the Cruise Time)
Let our captain and crew make your trip most enjoyable and memorable. Help hoist the sails (all 4 of them) or take a turn at the wheel.  Our cash bar is stocked with wine and beer, including a nice selection of local craft beers, sparkling wine, soda, water and bagged snacks (like pretzels and potato chips).