The Fifth Annual NSHOF Classic Sailboat was held Sunday.  It was sponsored by the National Sailing Hall of Fame which is adjacent to City Dock.  What a great event!  What makes this event unique and special is that all the boats are made out of wood.  No "plastic fantastics" here.  There are many reasons to marvel at this fleet.  First, nothing can match the beauty of wood.  The aesthetics of design is very evident.  Enjoy!
Elf is the oldest wooden race boat still sailing. She was built in 1888. She has been lovingly restored by her current owner, Rick Carrion (http://www.cyrg.org/elf.htm). This effort has been his life's work.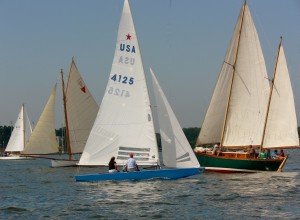 One of the most important construction material innovation is the invention of plywood. William Gardner used this material to build the Star.  She is still considered a fast, light, durable vessel and is still actively sailed today. There are thousands of these vessels competing around the world.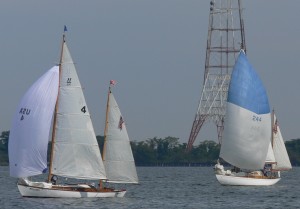 Think of yawls and ketches as cousins. Both are 2 masted, but it is the position of the mizzen that makes the difference. If the mizzen is behind the rudder post it is a yawl.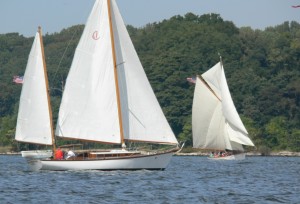 Ed Cutts, Sr was an innovator in use of materials. His designs incorporate the use of Kevlar in between double planking, perpendicular to the grain. This produces a very stable and light vessel. His sons are still building vessels using this technique http://cuttsandcase.com/designbuild.html. If anyone is looking for beauty and speed for a dream vessel, contact the Cutts brothers.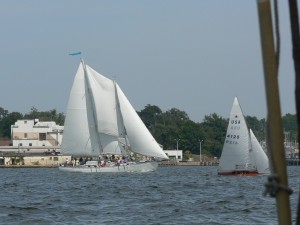 Woodwind II is a staysail schooner design that was popular between 1920 and 1940. She was designed by John Scarano at the Scarano Boat Yard (http://www.scaranoboat.com/) and launched in 1998. If she looks familiar it is because she or her twin sister sails in Annapolis harbor every day and she was in the movie Wedding Crashers.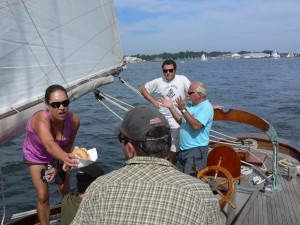 My thanks to Mark Faulstick, the owner of the highly competitive schooner, Adventurer, for letting me crew on his vessel. Congratulations on a second in class!
What does Ken do on his day off?  Go sailing!