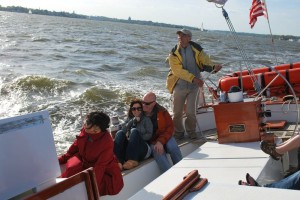 May 4th was a chilly day with a brisk wind.  We set sail and headed for the Bay Bridge.  Darren and Gigi are enjoying the sail as we fly along at 10 knots with just main and jib.  I have a sweater and sailing jacket on for warmth.
Darren deserves to rest, because he helped raise the main sail under crew member Charlotte's instruction.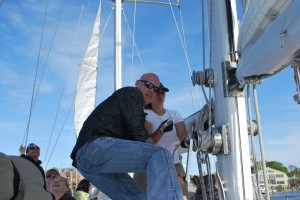 On our way back we meet Sam on his sail board.  At times he is able to literally fly!  Sam worked for us last year and the board he is using he made himself.
As we head back into the harbor, we site a Laser that has capsized.  If you look closely you can see the sailor holding on to the hull.  Lasers, unlike Woodwind, use body wait to keep them upright and in these breezy conditions this sailor is glad he has the training to right his craft and start sailing again.
My thanks to my friends Romani and Rob Thaler for joining us on the cruise and for the excellent photos.