WOW! What a day we had sailing today. It was like fall sailing. A nice cool breeze blowing at 10-12 knots from the North. The boat was sailing well and the people flocked out to enjoy this wonderful day we were given. The boat was loaded down all day with frequent sailors coming out to enjoy the weather and with lots of people celebrating their birthday today.
Our 1st trip brought out 9 frequent sailors one local group and one from Frederick,Md. Frequent sailor Susan joined us for the wonderful sailing conditions today also. Thanks Susan. We saw this great local Schooner on our 1st sail also.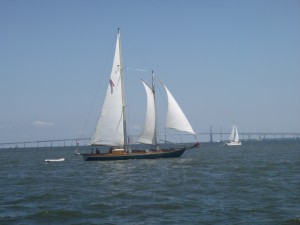 Our 2nd sail brought out more birthday and frequent sailors. Dave and Karen have been out with us 9 previous times(Thanks you guys). Erica from the DC area and Hugh from VA. were both celebrating their birthdays today(congrats!!). We sailed most of the way to the ThomaS Point Lighthouse.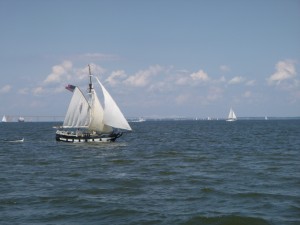 John and Jody were both celebrating their birthdays on our 3rd cruise. John was with his family and Jody was with her son that is looking at maybe attending the Naval Academy next year. Our 3rd sail also brought out 2 brides to be. Good luck ladies. Erin works for one of our favorite beer companies. And she happens to live near Frederick…I'll let you guess which one.
Our sunset sail was amazing. We had 2 more birthdays to celebrate this evening, Happy Birthday Rob and Olga. The winds lightened up just enough to make the evening very relaxing and the sunset was terrific.