For Woodwind, we only had two sails today. A 3:00 and a sunset sail at 5:30. Both were public cruises. On the first sail there was a nice size birthday party, and on the sunset sail we had a Air Force retirement party of about 20 people. If course there were other guests aboard, these were two of the larger parties on the Woodwind on September 1.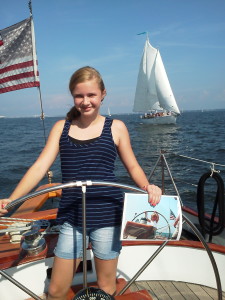 On the 3:00 sail, we also had Madison, an eleven year old girl from Calvert County. Her mom has a Catalina 27 that she grew up sailing on . She also went to sailing camp and learned on a FJ. She was back for a return visit, five years from the last time she sailed on the Woodwind. Her mom brought a picture of her sailing the boat as a six year old.  So we just had to get a picture of her with the picture. She now can clearly see over the steering wheel, and dare I say… is taller than me, at 5-foot! Maybe the next picture in the trilogy will be her crewing on the Woodwind in five more years. Wouldn't that be terrific?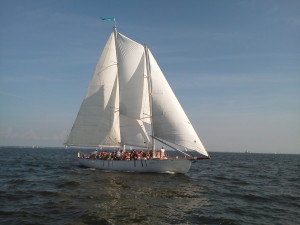 Great day for sailing!