Musicians that play aboard: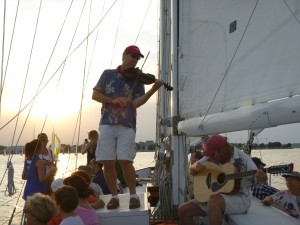 Eastport Oyster Boys
Recognized as Bay's Musical Goodwill Ambassadors The Eastport Oyster Boys love to share their musical celebration of life on the shores of the Chesapeake and its scenic rivers with audiences of all ages. For over two decades they have educated, amused and delighted thousands with their wit, wisdom and special message of stewardship and appreciation for the Bay and its unique maritime culture and history. Anyone who loves being on or near the water will find they have a lot in common with these guys, whose simple philosophy is wrapped up in the three basic necessities of life "a good hat, a good dog and a good boat!"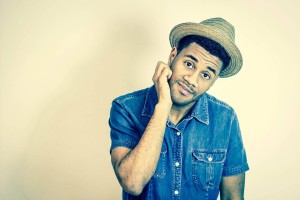 Kwesi K
Since finishing school at Lehigh University, the Alaskan / Ghanaian / Ohioan and former college running back has made quite a splash on the East Coast's music scene. Based out of Philadelphia, Kwesi K brings a witty, new, soulful sound to the scene.
Fresh off the release of "Pronouns," 2013 found Kwesi K touring the Midwest and Northeast extensively, sharing the stage with the likes of Rosanne Cash, Antje Duvekot, Ellis Paul and Judith Hill (The Voice), and hitting the college circuit. As indie blogger Selfblown recently noted, "There's something truly unique about his delivery and writing which harks back to his African descent, the drums, the wind instruments, the slightly gospel style backing vocals, it's all seriously good."
Mike and Kelly Lange
Mike Lange is a piano player/singer/songwriter/bandleader who has played thousands of gigs in the mid-Atlantic and a handful overseas during the past two decades. Over the years he has performed with many of the top bands in the Baltimore/Washington area both as a bandleader, member, and as a highly sought after freelance musician. His original music has been featured on numerous radio stations in the mid-Atlantic area including WRNR, WPFW, WTMD, and WHFS as well as many independent radio stations overseas. He is perhaps best known for the group Mike Lange & Boogie Express.
Mike started out in Baltimore specializing in blues piano and later branched out into boogie woogie, swing, rock'n'roll, and more recently Caribbean music.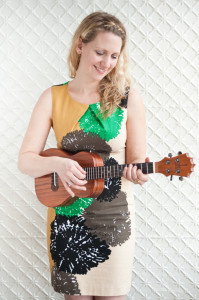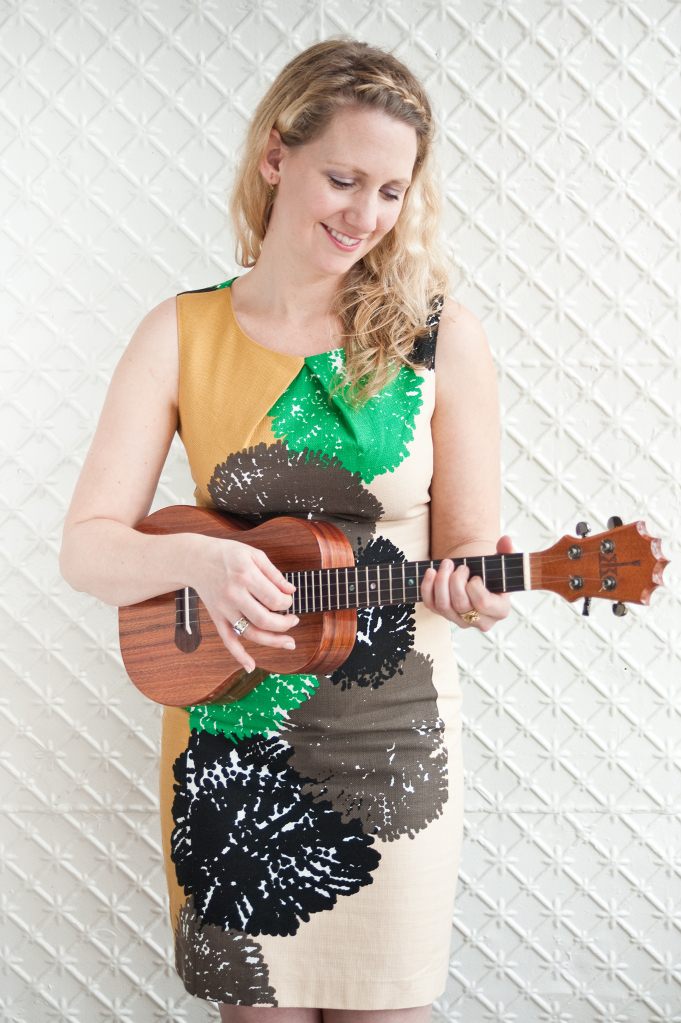 Victoria Vox
Victoria Vox has taken the artful sound of the ukulele into eclectic new directions. Her music ranges from upbeat and clever to honest and moving, while incorporating her signature "mouth trumpet" and occasionally singing in French. Her whimsical songwriting uses a unique palette of sounds and beats that delight audiences of all ages.
Her songs have been featured on NPR, television and in independent films. In 2009, Vox was invited to be an Artist in Residence (AIR) at the Strathmore Performing Arts Center (Bethesda, MD), and has since continued to support the new AIRS. Vox is also multi-award winning songwriter. She received First Place for her French tune, 'C'est Noyé' and Runner up for the 40′s-esque "My Darlin' Beau" in the International Acoustic Music Awards. Vox has won six Wammies (Washington Area Music Awards): Contemporary Folk Vocalist ('09, '11 & '12), Album of the Year ('10 & '11), and Fan Favorite ('10), as well as the "Vox Pop" Award with her album, Exact Change, in the 10th Annual Independent Music Awards. She has been included in Relix Magazine and Washington D.C.'s City's Best lists of artists to watch. Also, Vox appeared on the Jay Leno Show to demonstrate her perfected mouth trumpet! Originally from Green Bay, WI, Vox now lives in Baltimore, MD.
Dirk Schwenk
Dirk Schwenk is an award winning singer-songwriter from the great state of Maryland.  His formal training includes years of clarinet and symphonic band, but he found rock and roll as a late-addition bass player in the High School talent show, and never went back.  He has been singing, playing guitar and songwriting ever since, and has played for crowds at many of Maryland's best rock venues, including the Recher Theater, Rams Head Live and of course Annapolis' own The Whiskey.  Set lists start with great original music but include everything from Johnny Cash to Jimmy Buffet and the Ramones.  Just as long as its a great song (and maybe even better a drinking song with a Country edge) and we're having as good a time as we can with our time on earth.
The Roadside Show
The Roadside Show is a blue's influenced, roots-rock acoustic band that features music from the turn of the century up to contemporary hits. Bringing over 40-years of musical experience together, The Roadside Show is the latest musical venture of Robert Nolan and Randy Lusk. Both are transplants to this area, having lived from Alaska to New Orleans to Northern and Southern California, they bring their diverse influences together to provide some toe-tapping tunes that are sure to delight!
Many more musicians play aboard- this is just a short sample list.