Welcome Aboard!
We are looking forward to sailing with you aboard our 74-foot schooners, Woodwind and Woodwind II in Annapolis, Maryland.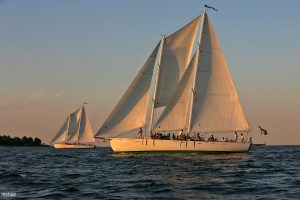 When can you redeem your Gift Certificate?
Public 2-hour cruises go on sale 6 days prior to the sailing date, availability may be limited due to private charters. Visit HERE to see our schedule.
Private Sailing Cruises: call for a quote and to book your private event aboard.
Specialty Cruise Tickets go on sale early in the year. Additional events are added to the Specialty Cruise Calendar throughout the season.
Merchandise can be redeemed in person or over the phone only.
How do you redeem your Gift Certificate?
Book Online – Buy Tickets Now
Call us at 410-263-8994
Come to our Ticket Office  located on the dock at the Annapolis Waterfront Hotel
 To avoid the disappointment of a sold-out cruise, we strongly recommend that you get your tickets in advance.
Prepare for your Annapolis Sailing Cruise:
Wear soft-soled shoes for your safety and to avoid damage to our wooden decks.
Please allow plenty of time for parking.  Check our website for directions and parking information.
Only working service dogs are permitted aboard,
We have local craft beer, wine, and bubbly aboard. We have our own liquor license so you cannot bring your own.
Be ready when you get to the Dock:
Check-in at least 15 minutes early at the Dock Office.
If you arrive early, feel free to enjoy food and drink at Pusser's Caribbean Grille located dockside at the Annapolis Waterfront Hotel.
Additional Funds still on this Gift Certificate?
Purchase Drink Vouchers from the Dock Office to use aboard your cruise
Buy Merchandise from the Dock Office
Save for another cruise
The certificate is not redeemable for cash. Gift Certificates cannot be redeemed aboard vessels. Merchant is not responsible for lost or stolen certificates.
Purchased Gift Certificates expire 5 years from the date of the original purchase.
We look forward to taking you out for a sail.